LaShaun Martin Named National Vice President, Operations
Posted: 05/10/2017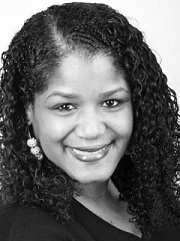 UPPER MARLBORO, MD, May 17, 2017 - We are thrilled to announce that LaShaun Martin has been appointed to the position of National Vice President, Operations for Mocha Moms, Inc., the very first such position within the organization. As most of you know, LaShaun has been our National Director of Social Media and Community Service for the past 7 years. She has been invaluable in these positions, spearheading and coordinating our great community service partnerships, initiatives, building an engaging social media strategy and presence with more than 100 thousand followers, serving as our technology expert, including our new website, and representing the organization in the media and events to include the Obama White House. Many of you also know that LaShaun has been a dedicated National Board Member, active and involved in almost every aspect of this organization. Those of us on the National Board often rely on LaShaun as our "Go-to" person. In this new position, which more accurately encompasses the scope of her responsibilities, LaShaun will continue to spearhead the social media aspect of our organization, as well as a wide range of duties managing our overall operations.

LaShaun has a wide range of talent and leadership experience within our organization. She joined Mocha Moms in late 2005 and immediately stepped into leadership as Co-President of the Northern Prince George's County, MD chapter. In 2008 LaShaun was asked to serve as the Mid-Atlantic Regional Director, overseeing 18 chapters in Washington DC, Maryland, Virginia and Delaware. In 2009, 2013 and 2015, LaShaun served as our National Conference Chair and is the recipient of 3 President's Awards. She has developed many procedures and leadership training strategies that have been incorporated in chapters and regions across the country. Each of her Annual Leadership Summits and Regional Conferences have been introduced to sold out participation.

LaShaun holds a Bachelor of Science degree in Business Management from the University of Phoenix. She spent 17 years with the State of California and Maryland Department of Corrections managing public education, research and FBI programs. She has worked from home for the past 14 year for Hewlett Packard as an Education Event Services Manager and now serves as CEO of her own companies, MPower Social Media Management and Shootie Girl™ Custom Rhinestone Apparel and Blog.

LaShaun resides in Prince George's County, MD with her husband and two daughters.

Please join us in extending warm congratulations to LaShaun as she moves forward in this new and exciting position. For more information about LaShaun, read her bio here. Her email address is lmartin@mochamoms.org.