Mocha Pink Ribbon Month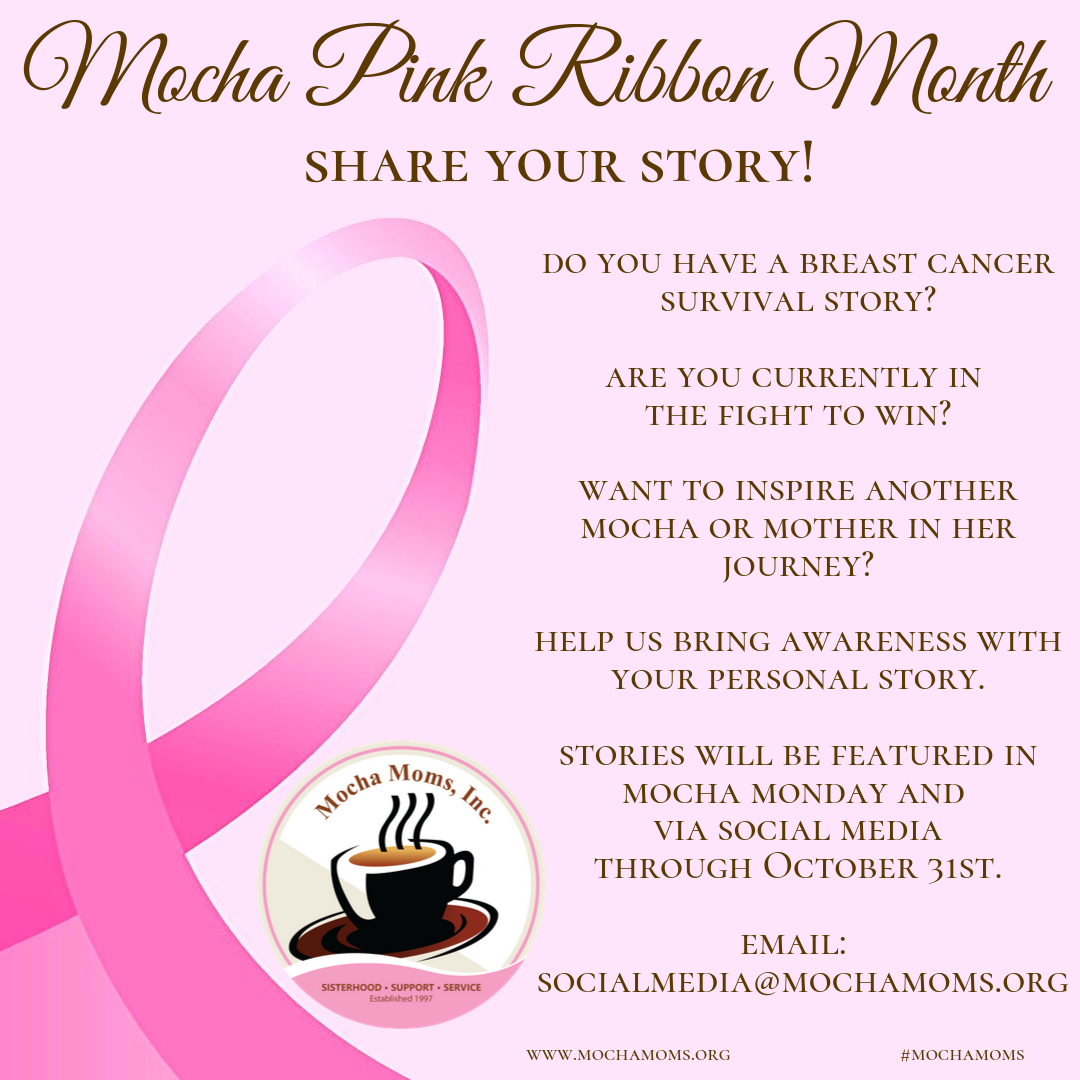 It's Breast Cancer Awareness Month, and we want to highlight your stories! So we're asking you to submit stories, videos, poems and photos HERE and we'll publish them in every edition of Mocha Monday. We want you to "Make your breast health a priority!" Prevention and early detection is key. Here is an easy checklist of reminders:

1. Have a mammogram
2. Maintain a healthy weight
3. Stay physically active
4. Eat fruits and vegetables
5. Do not smoke
6. Limit alchohol consumption

Additional information can be found at National Breast Cancer Foundation.

---
Mocha Marquita Goodluck's Story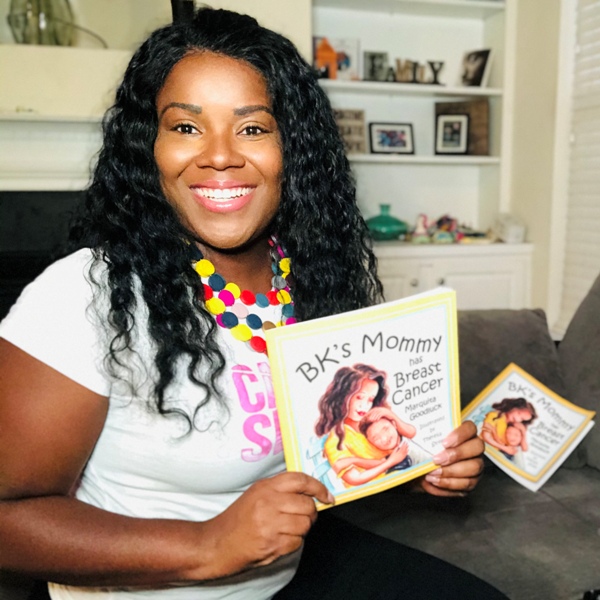 My name is Marquita Goodluck. I am a mother of three, and a member of Mocha Moms of Silver Spring. I was diagnosed with Breast Cancer at the age of 35 in 2017. My journey included a mastectomy, chemotherapy, and radiation. Although, I am in remission. I am still an active patient.

My advice to women who are currently fighting Breast Cancer is to fight hard. It's truly a battle...every step of the way will challenge you, but don't let Breast Cancer control your life. Use it as a reason to live your life better than ever before!

Published: October 7, 2019
---
Mocha Danae Aicher's Story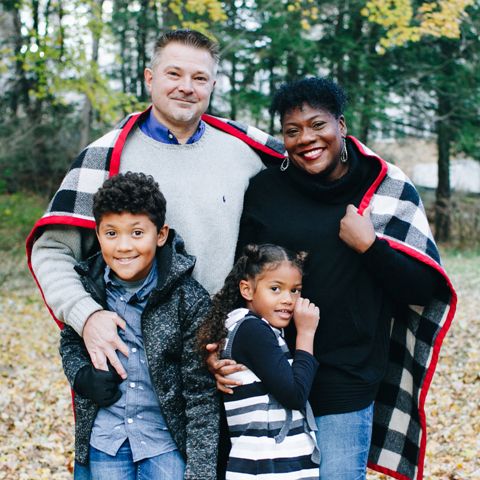 My name is Danae Aicher. I am the National Director of Communications and a member of the Hampton Roads, VA chapter of Mocha Moms, Inc. In 2008, when my mother was diagnosed with breast cancer for the second time, I could not have known what the path forward would look like for me. I was so focused on living my life and pursuing a career I loved (a privilege I had because of how she mothered me), that I couldn't even imagine life without Mommy.

Her diagnosis came early in the year. January. Maybe February. She chose not to do chemo again but, instead, to take a natural path of juicing. I didn't like it but I supported her in it because she was my absolute biggest and most consistent, dependable supporter. She was a Mocha Mom before the organization itself existed.

Sadly, within six months she was dead, which would have been the case even if she had undergone chemotherapy. Because she was only 58, my doctor recommended that I take the BRCA test just to be sure I didn't carry this one set of genes that would increase my risk of developing breast/ovarian cancer quite significantly. Thankfully, the results came back negative.

Then my husband and I discovered we were pregnant. Without Mommy around and being hundreds of miles away from her sisters, my Stepmom, and my Sisterfriends, I turned to Mocha Moms. These women walked with me through early motherhood, becoming a Mom for a second time, finding schools, and even going back to my professional life. And they were there when, almost 10 years after my mother died, we discovered a marker (lobular carcinoma in situ) that actually increased my already high risk of developing breast cancer to a whopping 96-98-percent.

For three months, I took a chemo pill every single day. It made me feel miserable. And it only would have cut my risk down to about 50%. For another year or so, I sat with a deep anxiety- sometimes waking in the middle of the night- about when (not if) the cancer would show up. Finally, my husband and I decided I would have a double mastectomy. Now I'm living with less than a two-percent risk.
I still have plenty to worry about because I'm a Mommy. But I don't worry as much about not being able to be here to see them grow up. This is only true because I was able to have a problem detected early and take care of it.

I won't say having a double mastectomy and the reconstruction process that followed was easy. But, as Moms, we have to be as courageous about taking care of ourselves as we are about taking care of our families. We can't be here for them if we aren't here. And we can't do our best for them when we aren't at our best. So, please, let's remember to take the time to prioritize ourselves and our health- emotional, spiritual, mental, and physical.
Published: October 14, 2019
---